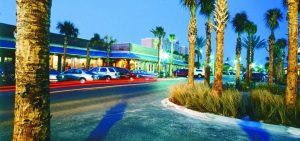 Atlantic Beach, Florida, on the northern Atlantic coast of the state, is a cozy seaside community. It has plenty of urban amenities, as one of three beach areas in Jacksonville, FL. It is an excellent destination for a weekend retreat, long-term getaway, and especially for putting down roots. There is no shortage of things to do and places to see in Atlantic Beach and the greater Jacksonville, Florida, area. Children, nature lovers, adventurers, avid beachgoers, and investors, such as self-storage investors, all find something to love about living in Atlantic Beach.
1. Perfect for Beachgoers
The white sand beach in Atlantic Beach is highly reviewed and known for being uncrowded. The water is deep; and there are lifeguard stations, to provide extra protection for those venturing into the water to swim, kayak, and engage in various other activities. Fishing is also very popular. The warm, sunny climate is one of the primary reasons Atlantic Beach residents love their community. Nearness to Florida's largest city, Jacksonville, is also key.
2. A Magnet for Nature Lovers
The nearby city of Jacksonville has 262 designated parks that cover more than 80,000 acres. There is no larger urban park system in the country than in Jacksonville. Dutton Island Preserve in Atlantic Beach is the largest park in the seaside city, and it offers 9,000 feet of nature trails, incredible views of wildlife, and a pristine salt marsh ecosystem.
3. Ideal for Adventurers
There more than 20 miles of trails at Kathryn Abbey Hanna Park in Jacksonville, and they are frequented by families and enthusiastic mountain bikers. This one park is also home to a 60-acre lake in which people enjoy kayaking, fishing, canoeing, and riding pedal boats.
4. Fun for Kids
Families with children find plenty to make the kids happy in the Atlantic Beach area. At Kathryn Abbey Hanna park, there is a splash park for the kids. The "Hands On" Children's Museum in Jacksonville is the ideal place for parents who like to encourage their children to learn through inquiry, creative construction, observation, free play, and problem-solving activities. The museum offers activities that develop social, cognitive, and physical skills as the children interact with both peers and adults.
5. Good for Self-Storage Investors
Atlantic Beach is a good place for investors of all kinds, including self-storage investors. A self-storage facility in Atlantic Beach is situated nicely for business from the nearby Naval Station Mayport, a major United States Navy base in Jacksonville located adjacent to Atlantic Beach. Self-storage facilities can also be ideal for storing kayaks, canoes, and other equipment used for fun in the ocean or at the beach.
Contact Weaver Realty, an Argus Affiliate
In Atlantic Beach and throughout the Florida peninsula, the Weaver Realty Group offers self-storage brokerage services backed by affiliation with the Argus Self Storage Network. It's always a great thing to work with a caring broker like Weaver Realty, equipped with experience and nationwide connections. Contact Josh Koerner at Weaver Realty Group at (904) 591-0140 regarding your interest in self-storage, whether as a seller or a buyer.