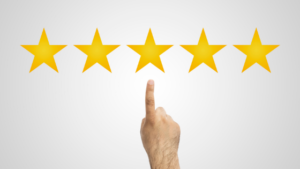 "Online reputation" is a modern-day phenomenon that commercial property owners and property managers can't afford to ignore. Studies show that consumers put a lot of stock in reviews posted on the Internet. The most desirable renters often choose their new home based in large part on what others have to say about the property on social media. Residents and others who air out their grievances on high-traffic sites frequently affect rate of occupancy. The following helpful information and tips are relevant to reputation management of rental properties.
Statistics of Online Audiences
The reality is that less than 10% of all consumers never do an online business search prior to choosing a place to make a purchase. A full 82% or more of potential renters and consumers in general read reviews on the Internet. Purchase and renting decisions are based on reviews and ratings 93% of the time!
Remain Aware of Online Reputation
Tools are available that will alert you anytime your property is mentioned on the Internet. You can set up Google Alerts or choose from many different types of reputation management software, to ensure that you are notified of each mention.
Also, the reputation of your competition can impact your position in the industry. Continuously monitor your competition, as well.
A Basic Step: Listings in all Directories
It is of utmost important that every business goes through the steps to be listed in all key online directories. This ensures that your property can be found on the Internet in relevant searches.
Social Media Connections
Hand-in-hand with reputation management, routinely engaging in social media can bear much good fruit. Reviews are not the only aspect of the Internet used to make purchasing or renting decisions. An excellent strategy for putting the Internet to work for a commercial property is to stay active on various social media sites. Facebook, Pinterest, Instagram, YouTube, and Twitter are among the major social media sites frequented by consumers.
An entire online campaign is the best approach. A consistent message should be maintained across the various channels you engage with. Most importantly, always engage with reviewers as well as others in your online audience.
How to Handle Negative Reviews
A bad review should never be ignored. A good reputation can take decades to build and yet it can be ruined with one horrible review. Making an online response is important, though the tone should always be professional. More response tips follow:
Demonstrate that you are listening to consumers.
Respond quickly.
Take responsibility.
Offer a solution.
Follow up on another, more personal platform.
The Best Property Managers
Weaver Realty Group offers top quality property management that has all bases covered, to ensure the success of each client's commercial property. You can count on property management by a company with experience and professional relationships in Florida that can directly benefit your bottom line. Contact Weaver Realty Group today by calling 904-733-0039, to make sure all aspects of ensuring success are covered, including management of your property's online reputation.