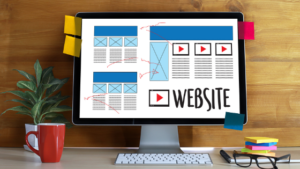 Consumer behavior has almost entirely shifted toward use of the Internet in recent years, making a  business website essential for any self-storage property. The website address is also known as the URL, which stands for "Universal Resource Locator." Start with your company's URL, when evaluating whether your website could do a better job of attracting customers through your online presence.
1-Eliminate the Hyphen
A website address is more customer-friendly when it is easy to read and remember. Adding a hyphen is the proper way to create space between words within a URL. It is often better to have a more seamless, hyphen-free domain name.
The parameters set up by Google and other search engines to determine the order in which websites are listed in search  results are constantly changing. Web builders keeping up with best practices have at times come to believe hyphens were preferable for a web address with more than one word. Whether or not hyphens were ever truly beneficial, ultimately, it is better to provide customers with an uncomplicated web address they are less likely to forget.
For example:
Best: www.urlsforselfstorage.com
Not as good: www.urls-for-self-storage.com
It can be difficult to interpret SEO best practices, since the algorithms are ever-changing, but some experts say search engine rankings are improved when hyphens are removed.
Another reason to remove hyphens is because it's much easier to tell customers how to access your website when no punctuation is included. It can also be easier for them to remember a hyphen-free URL.
2-Switch to an HTTPS Primer
Basic websites usually start with HTTP or HTTPS. "Hypertext Transfer Protocol" is what HTTP stands for. When the "S" is added at the end, it means the website has additional layers of protection for users; the "S" stands for Secure. There are at least three benefits to changing a business website to have the HTTPS primer, and they all add up to building trust with customers.  With HTTPS:
Eavesdroppers are prevented from stealing information or tracking activities across numerous pages.
Data cannot be corrupted or modified during transfer without being detected, whether modification is intentional or otherwise.
Users are assured that they are communicating with the intended website, without being vulnerable to man-in-the-middle type attacks.
More Help for your Self-Storage Property
For more help making a success of a self-storage investment property or to buy or sell a self-storage facility, contact Weaver Realty Group. Our brokerage experts are backed by an advantageous affiliation with Argus Self Storage Network, which connects our clients with a nationwide network of self-storage buyers, sellers, and investors, as well. Call Josh Koerner at Weaver Realty Group today at (904) 591-0140 for valuable help from experts with proven results, since tweaking your website may not be enough to help you meet your goals.